CONNECTING ACROSS NETWORKS USING VNC AND SSH!


Presented by Bill Hollett

LOOK HERE FOR THE POSTING OF BILL'S SLIDES:
http://kalamazoolinux.org/presentations/

These tools will add a new dimension to your internet and network
computing functionality. Connectivity with plenty of security.
Bill Hollett's presentation was slide-based and he approached
his subject as if the audience was in need of explanations and
definition at various levels. Sometimes the content of other KLUG
presentations assumes that you already have a broad knowledge
of the dynamic universe of Open Source/Linux implementation.
KLUG is fortunate to have people participating in the group with
various levels of skill and experience. Questions were handled
on-the-fly and he went into deeper explanations at several points
to make sure that everyone had understood his examples. We
saw how to implement VNC from many different network to PC
configurations.

Dirk Bartley was the Secure Shell (SSH) expert of the evening
with backup from Adam Williams. He assisted Bill in interpreting
what the SSH commands are and how the forwarding ports are set."
Bill had been learning and implementing VNC on his home and work
computers for only a short time when he sprained his ankle working
around the house. There he was, stranded on a couch at home, unable
to get up and move around without great pain. He had his PC's all
loaded with free open source VNC server and viewer software from
RealVNC. He grabbed a small portable running Win95a that had
about 32 Mb of RAM. He connected to the web and launched a
browser and obtained a VNC viewer for this relic. From this small
portable he completed his projects that required he work with four
other PC's attached to a network and/or connected to the internet.
It all worked. All the applications ran as expected regardless of
platform or connection. He was quick to utilize his new VNC skill.

If it had been a Win3.11 network connected to the internet?

VNC supports cross-platform use (Linux to Windows or Windows to
Linux). It also can be tunneled securely over a public network (like
the internet) using SSH. Bill had a big smile on his face through
most of his presentation. You could tell that he likes RealVNC!

"VNC (Virtual Network Computing) software makes it possible to view
and fully-interact with one computer from any other computer or mobile
device anywhere on the Internet. VNC software is cross-platform,
allowing remote control between different types of computer. For
ultimate simplicity, there is even a Java viewer, so that any desktop
can be controlled remotely from within a browser without having to
install software."


Real VNC - Virtual Network Computing

http://realvnc.com/
"The open source version of VNC has been freely available since 1998,
and more than 50 million copies of the software have been downloaded.
The software has also appeared on numerous magazine cover disks, and for
several years all popular versions of Linux have included VNC. It is in
active use by many millions in industry, commerce, education and at
home. Virtually all Fortune 500 companies use VNC, and installations of
VNC across thousands of workstations are commonplace."

You might want to explore TightVNC as it enables SSH tunneling and
has other features that you might utilize.

http://www.tightvnc.com/intro.html
Another option is exploring web-based VNC. This site employs VNC…

http://www.gotomypc.com
(12 Linux Enthusiasts Attending)
Video Presentation by Roger Dingledine

Download the video here: (it is in english)

http://www.nuug.no/aktiviteter/20050421-tor/
A cryptographer and network security expert, Roger Dingledine spoke
about the TOR Onion Router (TOR) project.

The Electronic Frontier Foundation (EFF) is a nonprofit group working
to protect your digital rights. Roger went to MIT and worked for the NSA
at one time. http://tor.eff.org/
http://tor.eff.org/overview.html

Tor's technology aims to provide Internet users with protection against
"traffic analysis," a form of network surveillance that threatens personal
anonymity and privacy, confidential business activities and relationships,
and state security.

Roger said he tells his grandparent that he works with communicating
privately, he tells his computer community peers that he works with
anonymity networks, and the military people hear that he works
with traffic analysis resistant communication networks.

The question was posed, "Who needs anonymity?" Different models were
discussed including remailers, mixing servers, and proxy servers. Multiple
TOR servers replicating encrypted data to hide source and target. Location
Hidden Servers were discussed for their strategic benefits.

TOR was a response to a need. Running since October 2003, there are 150
TOR server nodes worldwide with 15,000 users generating over 50,000
hits a day. The bandwidth traffic is 5 to 10 Mbs. Three deep encrypted
mixing of traffic. Looks just like a SOCKS proxy to the client. Supports
BSD, Mac OS X, Solaris, Windows, and Linux platforms.

READ THIS FOR MORE INFO ON TOR SOFTWARE INSTALL & ROGER DINGLEDINE
Onion routing application Tor makes PCWorld's top 100
by Jason Holt 07/04/05
http://www.ieee-security.org/Cipher/PastIssues/2005/E67.Jul-2005/E67.Jul-2005.txt

Larger social political issues are represented by this project. Privacy
and security are needed and in fact are the preferred state of internet
user communications. Anonymity is the cornerstone of your right to
privacy. Free speech is the ideal and secure private speech is the
insurance that this exists.

A big round of applause for Mark Jones who stepped up and put this
presentation together. THANKS MARK!!!

The T-Shirt Dingledine is wearing is a parody of a Jack Daniels ad
featuring
"Jack Florey," a non-existant MIT personality famous for
his hacks. Roger is an MIT graduate that worked, at one time, for the
National Security Administration (NSA). Roger does security research.
(11 Linux Enthusiasts Attending)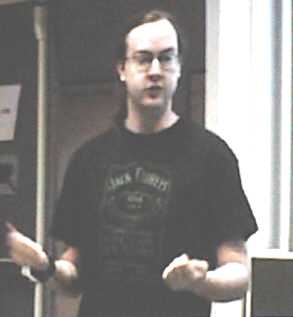 WEARING A JACK FLOREY'S T-SHIRT AND SPORTING A PONYTAIL, DINGLEDINE DESCRIBED A WEB ANONYMITY SERVICE.

Presented by Bruce Smith

See the KLUG Past Presentations page:

http://kalamazoolinux.org/presentations
Bruce introduced two of the most powerful command line
tools available on the UNIX and LINUX platforms: find
and xargs. To quote Bruce, "With these tools you can build
powerful and 'intelligent' scripts to automate a variety
of
tasks. Batch files weep in shame at the mere mention of
"find" and "xargs"."


Switching between the Firefox browser with his .html notes
and the terminal window, Bruce detailed command usage and
demonstrated how they worked. There were quite a few
arguments that he showed us that will deliver a plethora of
results. Bruce took questions on the fly and took time to
explain how to get the desired output. Several of his usage
tips brought forth exclamations of amazement from the
attendees.

General command descriptions from the GNU man pages.
find - search for files in a directory hierarchy

xargs - build and execute command lines from standard input

NOTE: Always read the man page for find and xargs on the
system you are going to run them on. There are many variations
and the commands are evolving. Test using ".exec echo" before
invoking real commands, especially destructive commands like
removing files!

------------------

To see web-based GNU manual pages in .html
Superman: find
http://www.linuxcommand.org/man_pages/find1.html

Superman: xargs
http://www.linuxcommand.org/man_pages/xargs1.html


(15 Linux Enthusiasts Attending)
Hosted by KLUG Chairperson John Bridleman

Tonight there was one request for install help. Andrew
Thompson, KLUG Installmaster, helped Bill Lindemann
in an attempt to install SuSE Pro v9.3 on a unknown
secondhand PC. When errors were encountered the
diagnostics began. The Ubuntu v5.04 distribution CD
was loaded into the CD-ROM drive for install. Same
result as with the SuSE install. Then the hardware was
examined... something was blocking the process. Next
Bill Hollett stepped up to the hot seat with a Knoppix
CD in his hand. Last I noticed, it looked like cards
were being pulled from the motherboard bus sockets.
If it could be done... it was done.

While all this installation energy was being shared, the
rest of the group broke into gleeful multiple node audio
packet transfers... known to some, as talking together.
At least half a dozen laptops were connected to the Jas
Networks 2.3 mbps DSL by a WAP and quietly doing one
task or another. The snacks were devoured tonight.

Adam Williams brought boxes of hardware from his own
PC graveyard. The items included motherboards, RAM
memory, processors, network routers, modems, power
supplies, a printer buffer, cables, drive controllers,
and more. People were quite pleased with the treasures
that would have become trash. Funny nobody took the 4 Mb
30-pin parity SIMM's. Those were $400 each stick back
in the early 1990's. You could get 2 to 4 Gb of memory
for that money today. Hard drives were $1 per Mb then.
THANKS TO ADAM WILLIAMS FOR ALL THE SWEET FREE HARDWARE!


This meeting is intended for those who are just curious
about Linux and Open Source software, who need some
help getting started, or want some extra eyes to look at
your advanced problem. You can also bring your computer
in order to have Linux installed on it, at no charge; or
to try a Linux distribution that boots from CD and requires
no change to your system's current software. Make sure
you arrange to get the software you want ahead of time.

If you would like assistance with a specific problem please
e-mail a description to installmaster@kalamazoolinux.org,
so we can be sure someone familiar with your issue will be
available to assist you.

If you would like to install Linux on a system, or you
need help with Linux, please fill out a Help Request so
that someone can research your hardware/software, etc...

http://kalamazoolinux.org/meetings/installmeeting.php
Installations and assistance are done by appointment
ONLY. You must fill out the appropriate form one week
prior to the meeting. If you only have general questions
or curiosity you don't need to do anything but show up!
(14 Linux Enthusiasts Attending)